sheet metal (small)
This a sheet metal part designed for a wrist-worn wearable. It serves several functions. It holds the tact switches for the device and provides structure for the internal FPC, but the third function serves a critical feature; We used a ferrous material to attract to a magnetic charging base! For scale, the larger holes in the center of the part are about 3.5mm in diameter.
Tiny (no really) screw
This is a custom M1.4 shoulder screw with torx drive pan head. The head is on the order of 2.90mm in diameter. Go find your caliper & try it out. It's pretty tiny.
Circuit board design/troubleshooting
What do you do when a circuit board component is crashing into something, somewhere during assembly and you can't quite figure out where? In this case I created a map of all the "large components" and measured the heights of each relative to the CAD file. It showed us a few of the components were sitting higher (on the order of 0.20mm to 0.50mm Doh!) than our theoretical model (CAD) anticipated, but almost all were high to some degree... good to note for next time, but for now... lets find a solution & fast.
CNC Bent Steel Tubes
Used as a component in a larger assembly which is designed to capture anthropomorphic information. This component was designed to rigidly/reliably hold cameras and sensors and fit into the minimalist design aesthetic of a retail environment. I performed FEA to establish feasibility of the design to hold up to abuse, worked with a supplier to have about 20 of these made to my specifications, and integrated this component into several system-level working prototypes for delivery to the client.
This device was designed to collect movement data for R&D purposes. A single circuit board carries the electrical burden, it houses a lithium polymer battery and is rechargeable thru USB. I did the complete M.E. design, worked with an EE and a SW resource to built several units. The images with red highlighting depict the parts ready for injection molding.
Below: ...and it works!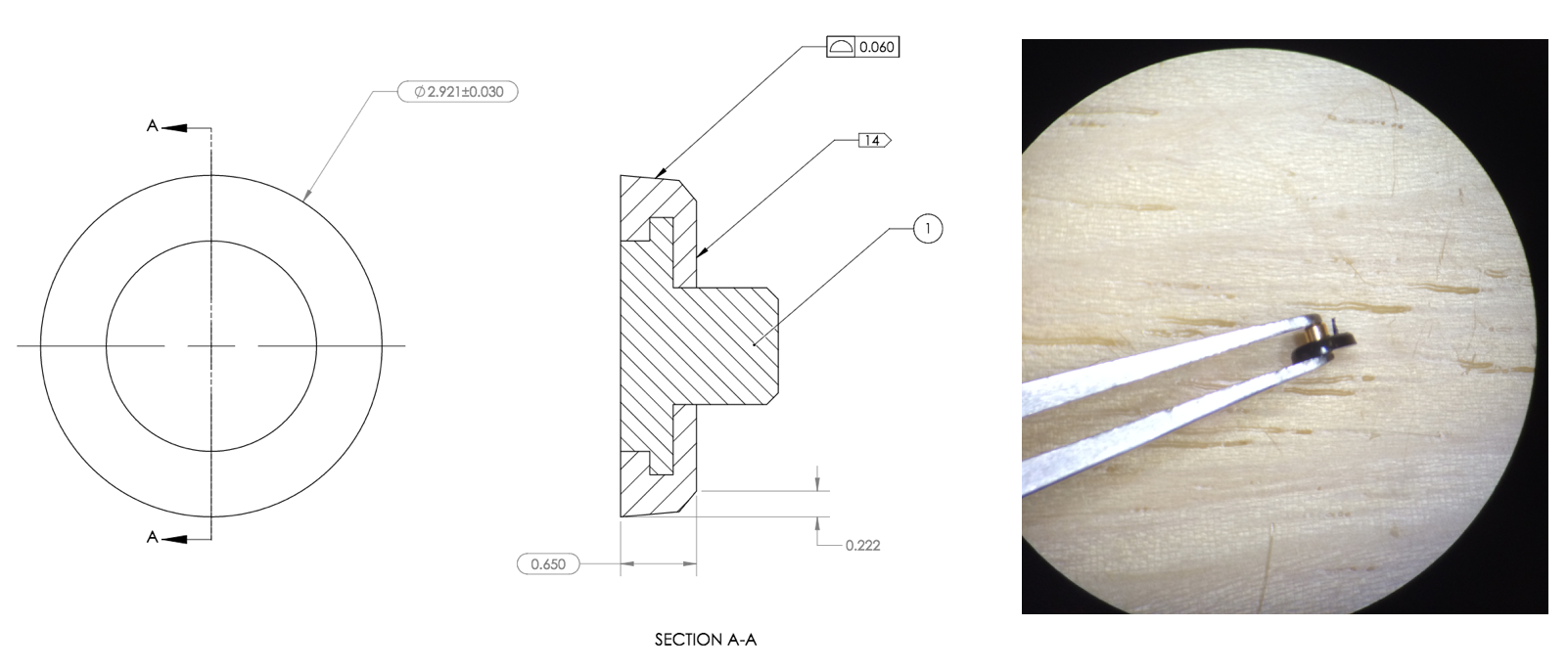 Micro-molding overmold
Micro-molding is another level. There are specialized machines to control the temperature, pressure, and material injection at a much more precise scale than standard injection molding. Parts are usually less than 0.50 inces (12.7mm) in size, down to about 800 microns. This part, you can see (thanks to 20:1 magnification), had trouble de-gating, but it's one of the first parts off the tool and I was super encouraged with the overall result. (units are in millimeters)
Tablet Device
Working with a local startup and building off an architecture that had largely been determined, I refined the design of this point-of-sale (POS) device which included touch screen, mag-stripe reader (credit card swipe), wifi, RFID, rechargeable LiPo battery with inductive charging all enclosed in an ultrasonically welded PC/ABS housing designed to IP65. I was the lead mechanical designer from prototype to manufacturing including engineering validation testing and oversight of the assembly line bring-up at the stateside contract manufacturer.