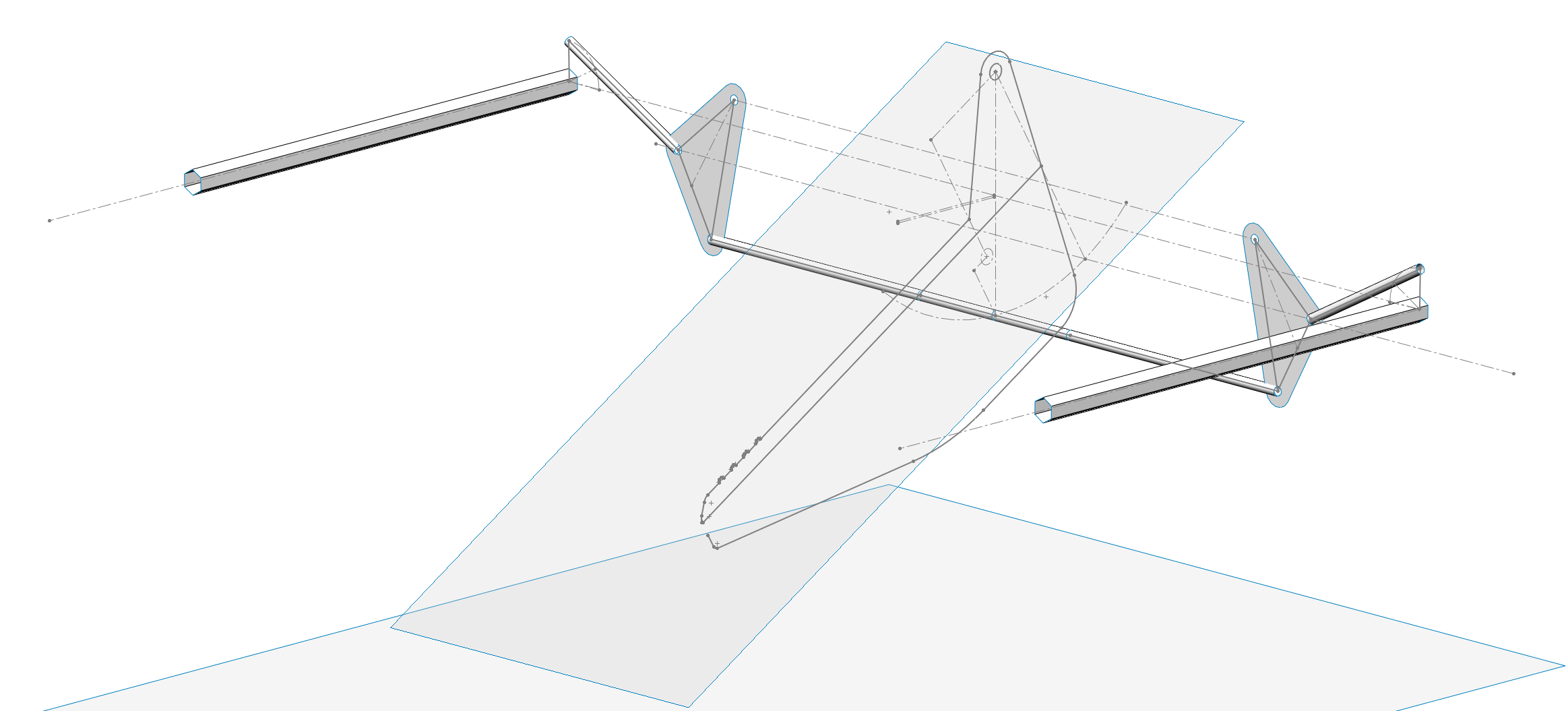 Sometimes you have to do some math...
I started in CAD with 3D sketches in order to keep the models light weight and flexible. Anybody who's designed a complex mechanism knows it's easy to get tangled up on things you don't know. My process is to define as many things as I can, model the system as best I can, take educated guesses where necessary, then iterate to find a better solution.
Our goal is to have an actuation force of less than 40 lb (This may sound high but imagine an adult stepping down onto an object) so it seems that, at least theoretically, we're looking pretty good. My calculations, however, don't take into account real-world inefficiencies such as friction and part misalignment, so I'm expecting to need some margin.
Using this information, I was able to refine the angles of the assembly to better fit into the space available and I targeted a 30 lb (theoretical) force at the pedal. Time to build this thing!
The first version wasn't pretty, but we proved some stuff, learned some stuff, kept the budget manageable by leveraging off-the-shelf components, and acted quick to keep the timeline. You'll notice we used wood (a craft I'm comfortable with and have the tools to support) for all the non-critical features. The final design will be sheet metal, but I like to walk before I run.
This is what we call the "proof of concept" (POC) prototype. It exhibits all the function of the final proposed solution, but lacks "design for manufacturing" (DFM) which will look to reduce the cost of producing individual components by leveraging high volume production methods (injection molding, sheet metal, metal stamping, etc.) and consider assembly and serviceability. After that, we'll turn to the engineering testing (beyond what we've already done) to ensure the assembly holds up to the long-term use. This mechanism may actuate over 10,000 times in it's life!
Spoiler alert! This design exhibits a measured actuation force of ~32 lb, which meets the product requirement and usability targets.